Brendan Whyte
************
We just received several boxes of the brand new Canadian Geographic: Indigenous Peoples Atlas of Canada

It is a 4 volume set inside a slipcase and is CAD $ 99.99
ISBN 9780986751622
Volume titles: Inuit, First Nations, Metis, Indigenous Canada

The Royal Canadian Geographical Society, in partnership with Canada's national Indigenous organizations, has created a groundbreaking four-volume atlas that shares the experiences, perspectives, and histories of First Nations, Inuit and Métis peoples. It's an ambitious and unprecedented project inspired by the Truth and Reconciliation Commission's Calls to Action. Exploring themes of language, demographics, economy, environment and culture, with in-depth coverage of treaties and residential schools, these are stories of Canada's Indigenous Peoples, told in detailed maps and rich narratives.

This extraordinary project offers Canada a step on the path toward understanding.

The volumes contain more than 48 pages of reference maps, content from more than 50 Indigenous writers; hundreds of historical and contemporary photographs and a glossary of Indigenous terms, timelines, map of Indigenous languages, and frequently asked questions. All packaged together in a beautifully designed protective slipcase.

Hardcover: 322 pages
Publisher: Canadian Geographic
Release Date: September 25, 2018
Audience: Ages 13-17
Subjects: Young Adult Nonfiction People Places Aboriginal Indigenous History Canada
EAN: 9780986751622
Physical Dimensions: 10.50" x 12.87"
Shipping Weight: 8.70 lbs.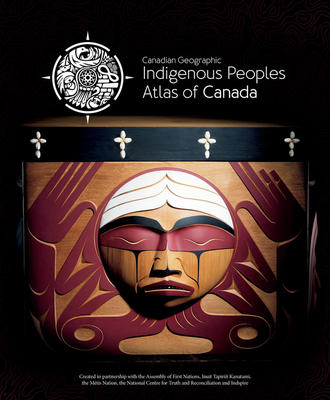 http://www.worldofmaps.com/product/9780986751622.html
Indigenous Peoples Atlas of Canada

ISBN: 9780986751622

$99.99 CAD ADD TO CART

Author: Canadian Geographic

Indigenous Peoples Atlas of Canada

Includes historic and contemporary maps and explores themes of language, demographics, economy and culture.
-- 
World of Maps Inc.
1191 Wellington St. W.
Ottawa, ON, K1Y 2Z6
Tel 613-724-6776 or 800-214-8524
Fax 613-724-7776 or 800-897-9969
worldofmaps.com
info@worldofmaps.com
Connect with us!
www.Facebook.com/worldofmapsottawa
www.Instagram.com/worldofmapsottawa
www.Twitter.com/worldofmaps1